Image Credit: Elizabeth A. Eccles
A few personal notes:
I spent about 3-4 years reading the books in part 1, getting that information settled in my head, and re-arranging my view of the world around it. The resources that follow are those I am finding helpful now. (clicking on the titles or images takes you to interviews or organization websites related to the author; to purchase, use your favorite booksellers)
First, continual self-reflection is essential. Check out
My favorites: Might from the Margins and The Third Reconstruction
Long but important: The Color of Law and The Warmth of Other Suns
This chart is helpful for explaining the balance that white allies need to maintain: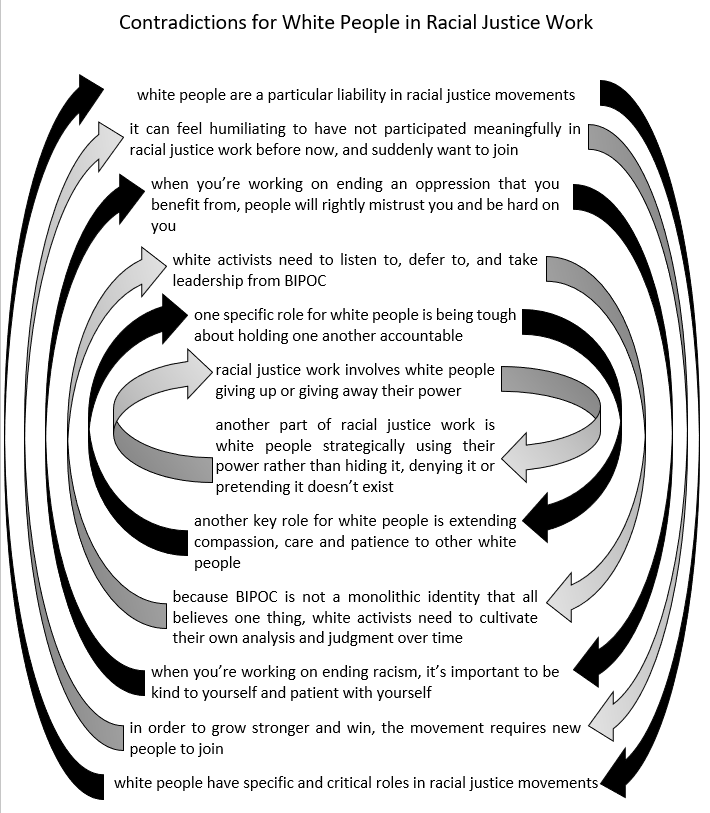 I wanted to talk a bit about this one because it's somewhat different from the others here. It's very important, though, because it puts into words the things everyone knows about America. As a Third Culture Kid, the one I have noticed the most is, "America is the greatest country in the world." This is just something everyone knows. It gets repeated regularly. And…maybe because I grew up in Belgium, or maybe because I'm a very literal, logical person, I would always think to myself, "Based on what?"
Dr. Hughes might call this "The Myth of the Chosen Nation." Or maybe he would categorize it under one of his other myths. Or maybe "the greatest" refers to all the myths together. In any case, this is a book worth reading, so that Americans can take off the lenses that we see through but don't ever look at, notice their size and shape and how they affect non-white Americans, particularly black people. The title and the book cover link to an interview that will give you a sense of the book.